Jack Grelle
w/ Bazile Mills ​& Nation

September 23, music at 9:00pm

1867 Bar1101 N 14th St #6, Lincoln, NE (531) 289-1724

Admission: $8

Jack Grelle:

"A progressive honky-tonk hero arriving at just the right time in Trump's America"- Rolling Stone

Jack's willingness to travel around genre-lines is a testament to the urgency and restlessness of his artistry. This rambling spirit has brought him to over 13 countries and 3 continents with a tour schedule that averages 150 shows a year. He has shared the stage with Joe Ely, Billy Joe Shaver, Chris Stapleton, and Pokey Lafarge. LaFarge, who has personally invited Grelle to open shows on numerous occasions, referred to Jack as a "Midwestern poet" and "a timeless Renaissance man." Jack has also enjoyed the opportunity to sit in with Dale Watson and his Lonestars.

Jack's songs range in topic from celebrating the life of his recently-deceased grandmother to romance in South America, and he shows an integrity and courage that mirror his punk rock upbringing by tackling such topics as freedom in femininity and the tragedy of police killings that plague the African-American community.

Jack is a strong, idealistic artist who does not accept limitations. These qualities recently led him to step outside of his normal role as he assembled a backing band to tour the Midwest with Lavender Country, the music of Patrick Haggerty, a life-long gay rights activist who made the world's first gay country album. Grelle's drive continually leads him to new challenges, and he consistently exceeds expectations. With a strong new album and another long stretch of tour dates lining up, Grelle is poised for new horizons and great success.

Bazile Mills:Based out of Omaha, NE; Bazile Mills is a Roots, Americana, Indie, god-damn-it band.

​

Nation:A unique sound that blends folk, a back drop of americana blues, and a pop-sensibility. Often described as accessible, and something that could only come out of a city like Omaha, Nebraska.

Learn More:
Powered by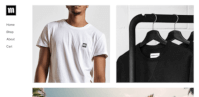 Create your own unique website with customizable templates.