​

​May 6, 2016: The Yawpers, ELDREN, Gloom Balloon, Christopher the Conquered


Doors: 7:00pm

Music: 8:00pm-1:00am

Tickets: $12

Advance tickets available at the

Oriental Theater

​18+

The Oriental Theater -

4335 W 44th Ave

The Yawpers:
Inspired by Walt Whitman's promise to "Sound my barbaric yawp over the roofs of the world," Denver Colorado's The Yawpers have set about bringing together disparate pieces of the American music lexicon and making it their own.

The sonic backbone to the Yawpers stripped down - yet brazen- sound are the overdriven acoustic guitars and trap kit. Equal parts frenetic, earnest, and menacing, it's a combination that is uniquely and accurately Yawper...

The Yawpers formed in 2011 and quickly found themselves identified one of the must-see bands in the vibrant Denver scene . An early EP was followed by their 2012 LP "Capon Crusade" which earned the band high marks among music critics .
In its brief history the Yawpers have played over 400 shows and toured coast-to-coast sharing the stage with bands as varied as the Yawpers themselves including: the Reverend Horton Heat, Cracker, Delta Spirit, Black Angels, Blind Pilot, and have done full national tours with the Blasters and Nashville Pussy.
​Eldren:

We are the melodies in your dreams.

The Moments from your past.

And the future that you desire.

We are Eldren. And so are you.

"By design and inclination, these guys have a broad palette of instrumentation and sounds to use in the songs they write and the shows they play." - Tom Murphy, Westword Magazine

Gloom Balloon:
Unfortunately, due to unforeseen circumstances, Gloom Balloon has had to cancel their performance at this event.
Christopher the Conquered:I am Christopher the Conquered. I am a songwriter, recording artist, singer, performer, and pianist. I make interstellar soul music. My vision: To bring people together through story and song. To ignite within the listener a hunger for greater self-awareness. To help listeners identify true motivation for their actions and how those actions reflect their beliefs. My approach combines sincerity with satire. Every word I sing comes from a place of love.

"It's a little like Freddie Mercury singing selections from David Bowie's Young Americans and the Rocky Horror soundtrack. And if that doesn't appeal to you, then I need some time to think about us … because … because I'm not sure I know who you are anymore." - 123 O'Clock 4 O'Clock Rock"Christopher the Conquered is the real deal." - Ryan Adams

---

---

---

Our thanks to everyone who contributed to this show! Thank you for your support! ​
Powered by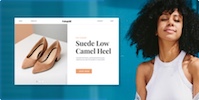 Create your own unique website with customizable templates.